Phil and I kicked off our 2013 schedule of games yesterday with a whole day's gaming here in GHQ. I should perhaps explain that Dianne, Phil's wife, has a new job literally just up the road from our house and that Phil's days off from his job include Friday. The two factors happily coincide to allow us a whole day's gaming as and when we can arrange it now. We planned to play a
Musket and Tomahawks
game in the morning session, followed by lunch which Sue kindly provided for us, with a
Bolt Action
WWII games set in the parallel 1940 of Operation Zeelowe {See
Wargames Illustrated
#300 for a full explanation}.


The general premise of the first game was centred around an attempt by a force of British Regular to surprise a Paddoquoi Indian encampment on the banks of the the Great River, burning the village, if possible, and killing as many of the Paddoquoi as possible. Naturally, the Indians were not at home to callers but returning from a hunting trip up river.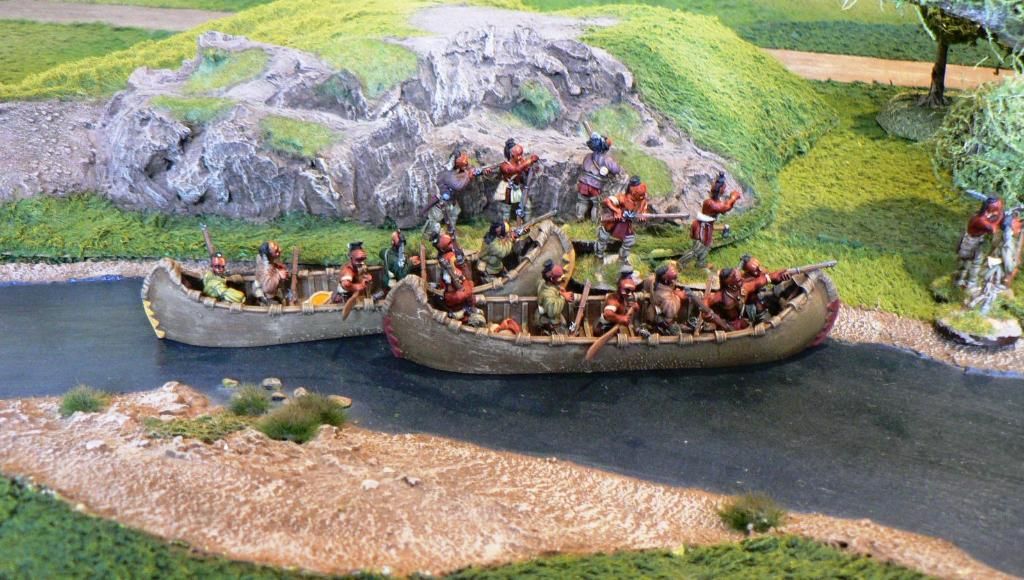 The Indian plan, such as it was, centred on an ambush of the Regulars in the dense woodland which lay along the river's course, linking up with the small party which had been left to guard the village.
A prolonged firefight developed between the Indians and the Regular Infantry, who were hampered by the narrow path through the dense woodland. In the foreground you can see the Indian Sachem, whose trait turned out to be 'Afraid', rather hampering any close fighting on his part.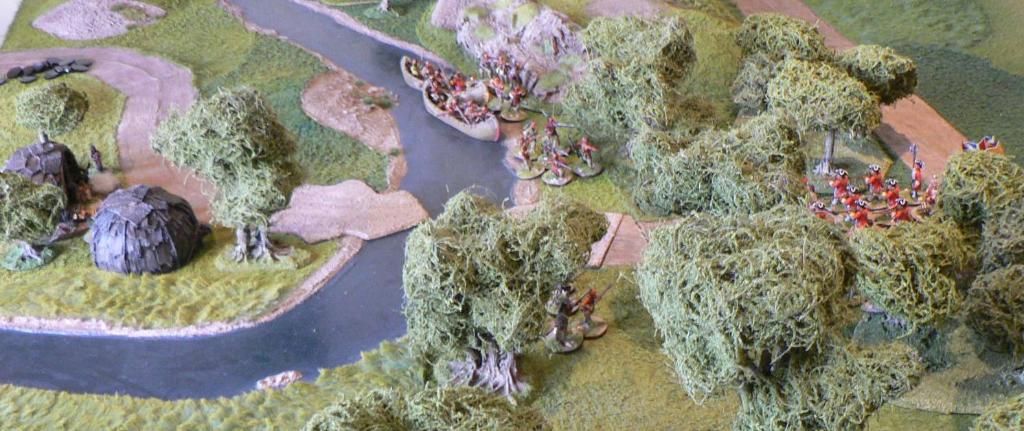 The Indians sprang their ambush and for a while it looked as if the Regulars might not prevail. However, superior discipline and firepower eventually told and the Indian force dissolved away, leaving the village to burn. Oh well, there is always next time I hoped! Muskets and Tomahawks seems promising for our occasional F&IW games, preferable to Sharp Practise which I found confusing and disappointing! As I said just, the rules used were Muskets and Tomahawks while the figures are from my collection of Redoubt Miniatures and the woodland from The Last Valley. As you'll all know, Phil made my terrain boards specially for GHQ.]
Time for lunch!
Unfortunately my camera battery chose just this time to run low, meaning that I only have two shots of the afternoon's Bolt Action "Battle of Blandings Bridge" game. As I won that one its doubly galling really! First up, a general view of the table with the attacking Germans in the foreground, with the Blandings Bridge and the Dower House in the distance. The gallant lads defending this vital crossing point can just be seen moving into position.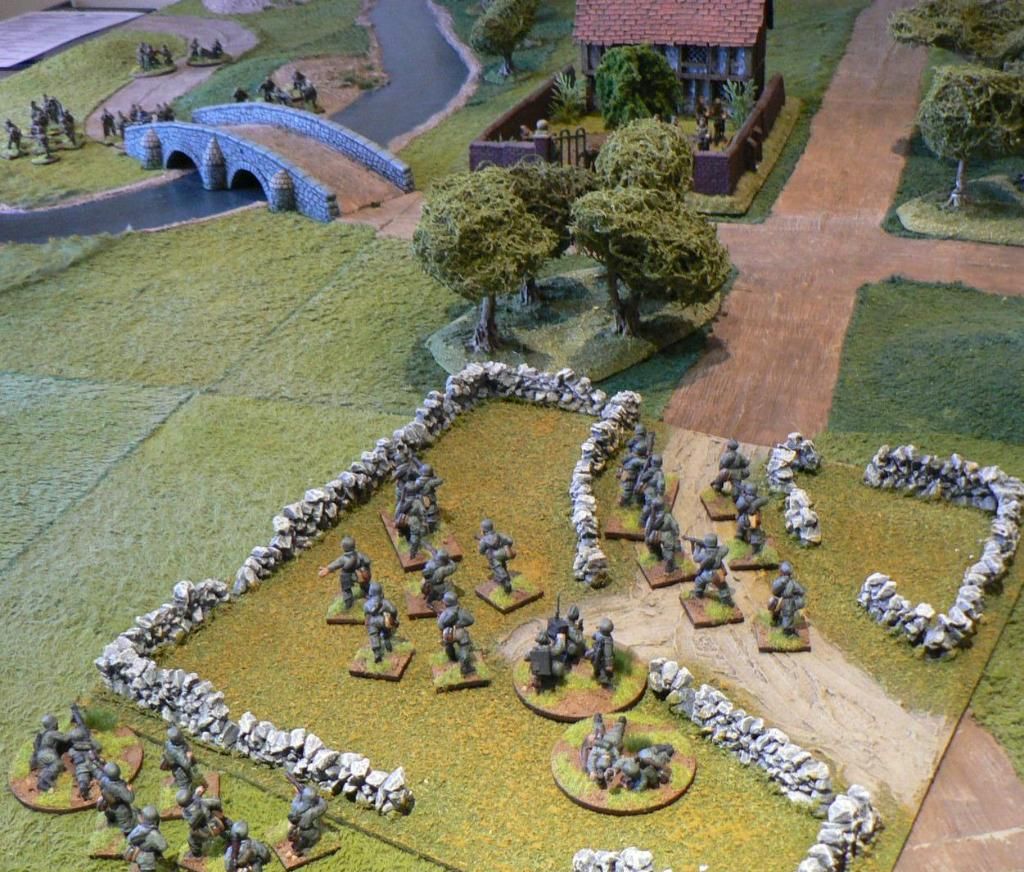 Next, the gallant defence of the perimeter of the Dower House by the bicycle mounted reconnaissance squad, who held off two squads of attackers for the whole game, despite heavy fire from the 80mm mortar!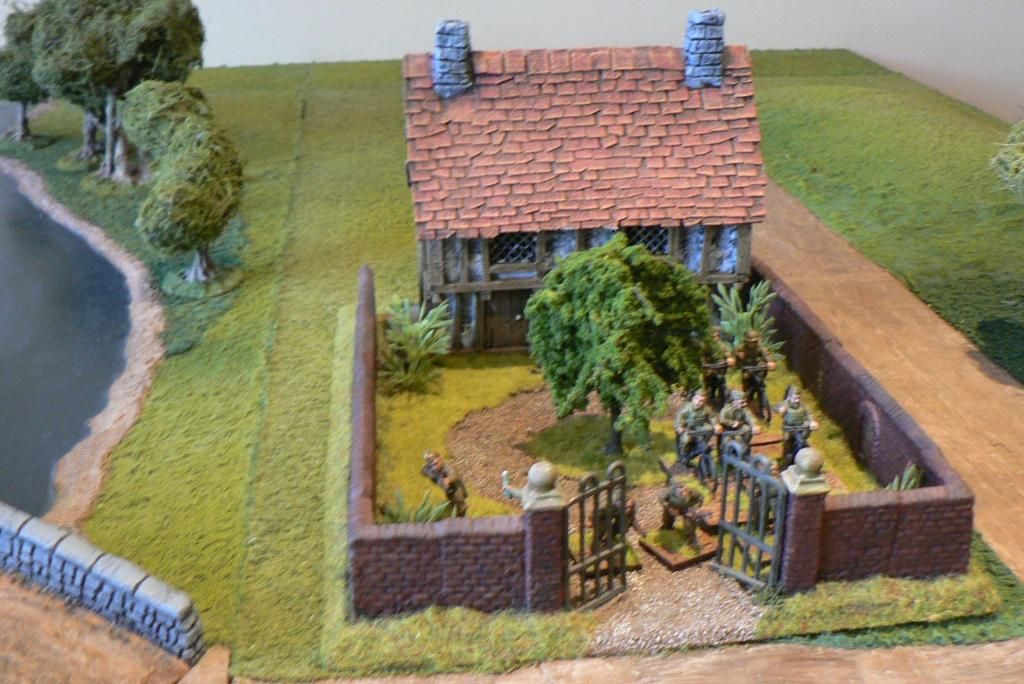 The figures for this game are from my 1940/Pig Who-o-o-o-ey! Collection: mostly Wargames Foundry with a smattering of BEF/Warlord, Artizan and Crusader. The bridge and walls are from Hovells, the Dower House a Scenix prepaint which does stirling duty from the ECW to 1940!
Our next scheduled game will be over at Phil's later in the month: a Bolt Action WWI game! In the meantime I have to collect my ECW rules, "A Crowning Mercy",from the printer next week and deliver them to Caliver Books. An exciting start for me to 2013!