No
Salute
for Phil and I this year again, but no doubt Jon will fill me in on all the details on Wednesday. Instead I've focused my efforts this weekend on preparing for today's game with Phil, the third in our sequence of games set in North America, this time set during the ACW. I've made a few slight alterations to the basic layout, namely removing the corner harbour and adding a couple of low hills and a few rail fences, just for the look of the game really. We used
Black Powder
as the basic rule set again, although we incorporated one idea from the
Glory Hallelujah
supplement as a trial, the moving only once in order to fire rule. So, to the
Battle of Penda's Farm
~
Penda's Farm, commanding an important crossroads and held by the Rebs!
Virginians hold the Reb right, North Carolinians the left.
The First Union Division sweeps forward on the boys from North Carolina!
No sign of any reinforcements for the Rebs, "Here they come! Steady Boys!"
The 144th New York are seen streaming away in Rout, beaten by the boys
from the 10th North Carolina holding the stonewall line!
The 10th N.Carolina beat off the second assault by a fresh New York
Regiment. Flank support can be seen arriving to their aid.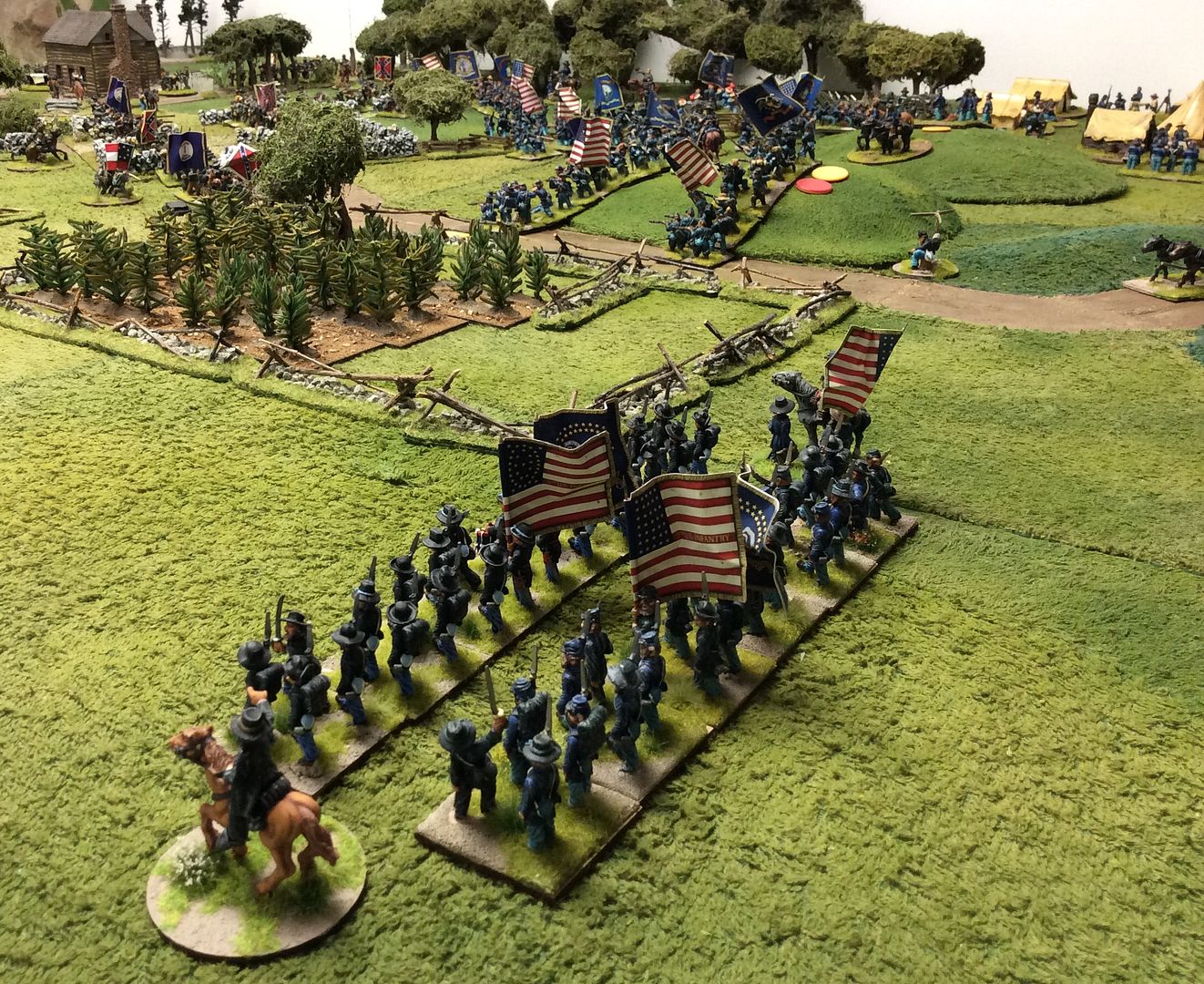 At last the second Union Division makes an appearance on the Reb's right
flank, lead by troops of the US Regular Army.
They hope to catch the Rebs in their flank, but fail three Command Rolls on
the bounce, allowing the Rebs to shore up their exposed position.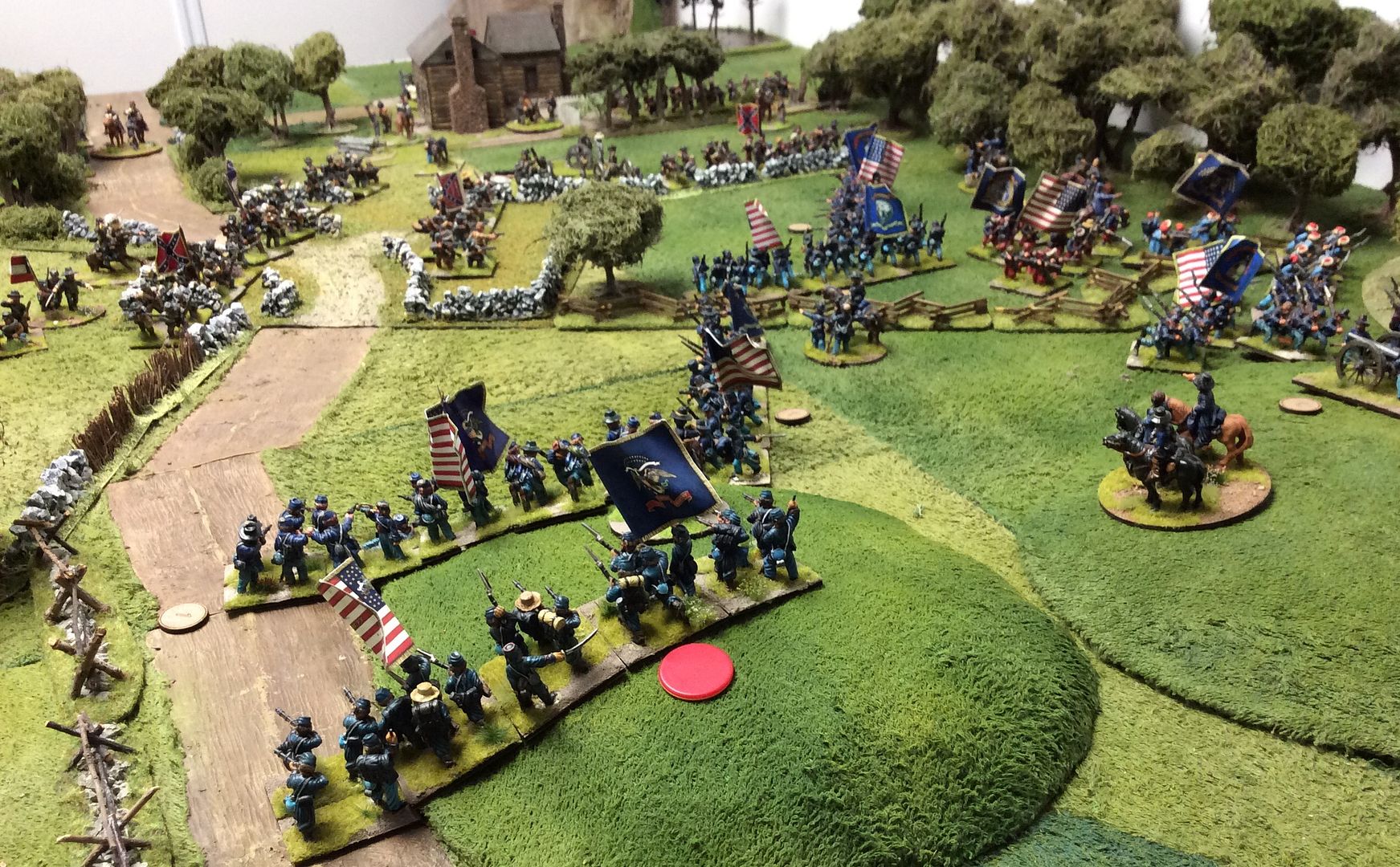 On the Reb left the 10th N.Carolina see off yet another failed Union assault!
Bad news just multiplies for the Union as the Reb Second Division finally
marches to the sound of the guns!
Once more a Union regiments assails the "Lions of Penda's Farm", can they
dislodge these gallant boys?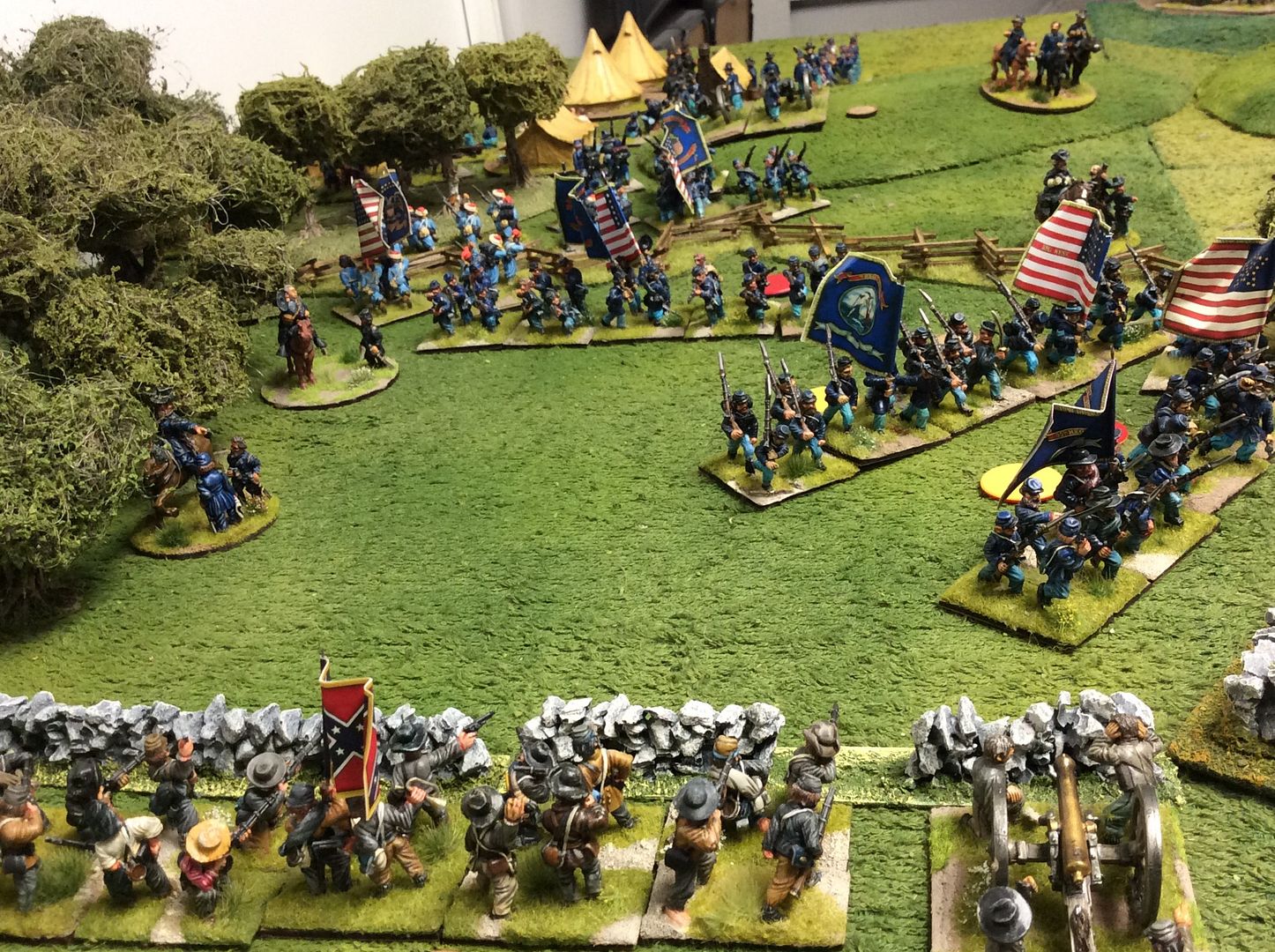 Well, of course not! What heroes they were, the stuff of legend, repelling
assault upon assault through six turns to effectively win the battle on their
own!
Its all up for the Union as more troops are sent streaming to the rear!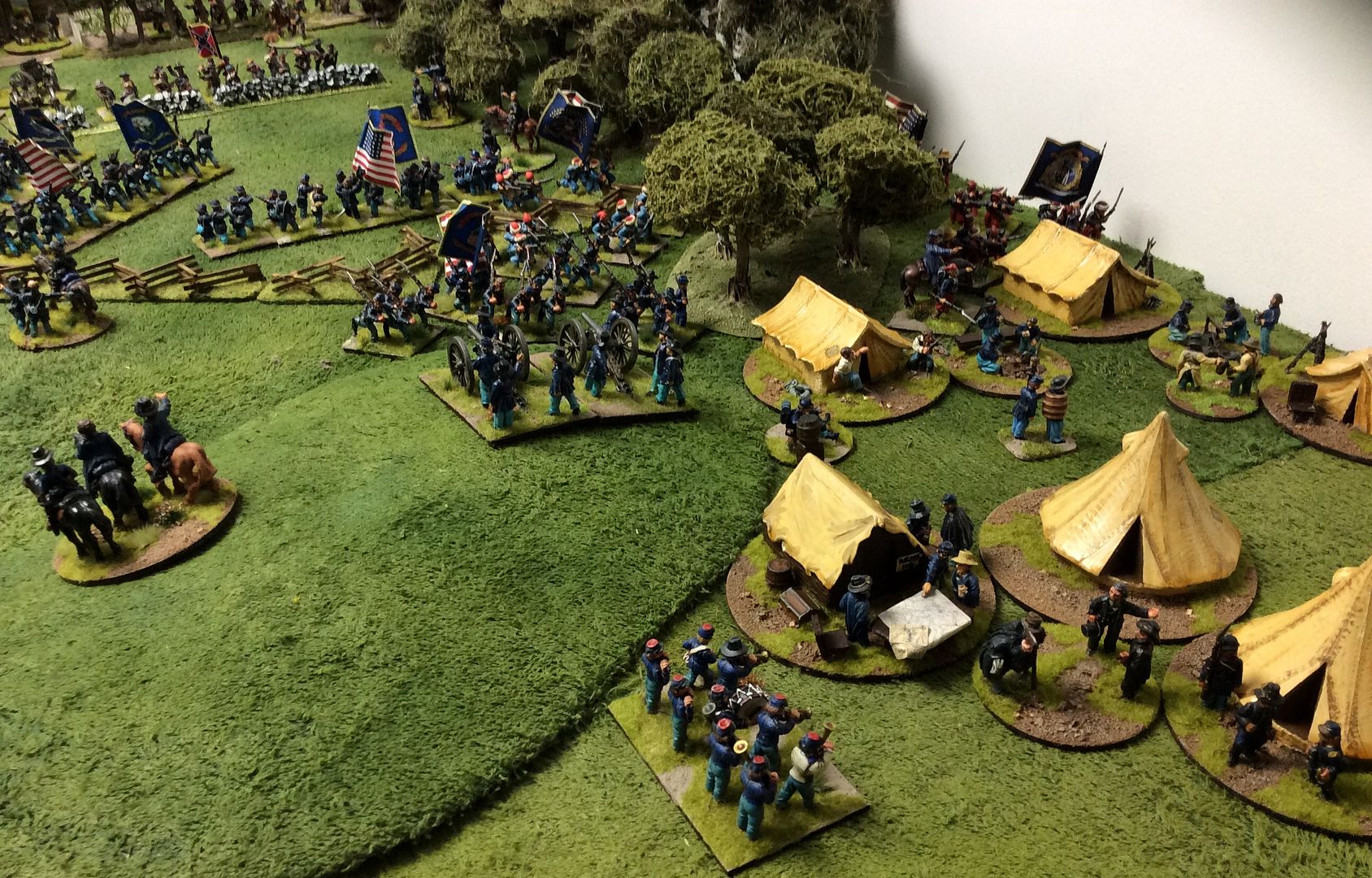 General Robinson sadly sees his boys streaming away through the camp.
Time for a Rebel Yell I feel!
The game lasted 9 Turns before Phil admitted defeat, but effectively it was over in Turn 7. The new Glory Hallelujah rule on moving and firing worked really well we thought, even on the few occasions when we forgot it and left troops to move and then found they could n't fire! The real heroes for my Rebs were the boys of the 10th North Carolina holding the stonewall. They beat off five regiments in succession in Hand to Hand combat and passed every morale check they took! For Phil, the failed Regulars' assault on the Reb right really took the game away from him and meant he was always responding to events beyond his control. But we both thought it a grand game which might easily have gone another way another time.
Next up in GHQ should be a replay of this game with Jon on Wednesday night. We'll see how that goes in due course, but for now we will bask in the reflected glory of the 10th North Carolina, the "Lions of Penda's Farm"!